Hitting the Right Note:
#VFSingWell Webinar Re-Cap
On Thursday 12th of November, Voices Foundation hosted the second instalment of the #VFSingWell webinar series. We wanted to share current research, unpack and translate current guidance, and provide practical solutions for music making in schools today, alongside highlighting why the power of singing for children is important now more than ever.
We were lucky enough to have a fantastic panel made up of Dr Anita Collins (award-winning neuromusical educator and author in the fields of brain development and music learning), Gary Griffiths (Music education consultant and author of Music Unlocked, Music Mark's Covid-19 guidelines for the music education sector), and Sophie Gosden (Headteacher at The Mill Primary Academy in Crawley, West Sussex).
The discussion, chaired by our Interim Chief Executive Jennifer Coleman-Peers, focused on the importance of singing in schools and explored the guidance on doing so safely. Here we'll be sharing with you the key moments of the session, exactly why our panellists think singing matters and how they believe that making music can and must continue to work in the current climate.
---
Why Sing?
Voices Foundation exists because we know singing really matters. Anita, Gary and Sophie shared their insights with Jennifer on the reasons why singing matters to them and what they believe the benefits of singing are.
"The benefits of singing are huge and forever changing."
- Dr Anita Collins
Singing is integral to our development as humans and we benefit from singing from the moment we're born. Anita explained how singing is really our first language and that babies in fact hear spoken voices initially as song. She discussed that because of this, children use the melody and rhythm of song to actually understand language in the first three years of their lives: how to speak, how to make sounds and therefore how singing helps solidify the ability to read as children get older. She discussed how singing is proven to be incredibly stimulating for the brain:
"Scientists have discovered that music listening and music making set off more parts of the brain at once than any other activity they've ever found." - Dr Anita Collins
An Innovative Education Tool
As singing is such an innate part of our human development, Sophie stressed that as educators it's important to remember that alongside the emphasis on core subjects, that "as a human you are more than just a reader, writer and a mathematician." She feels schools need to hold on to the wider perspective of what it means to be an educator and how it's possible to use singing as nature to nurture all children.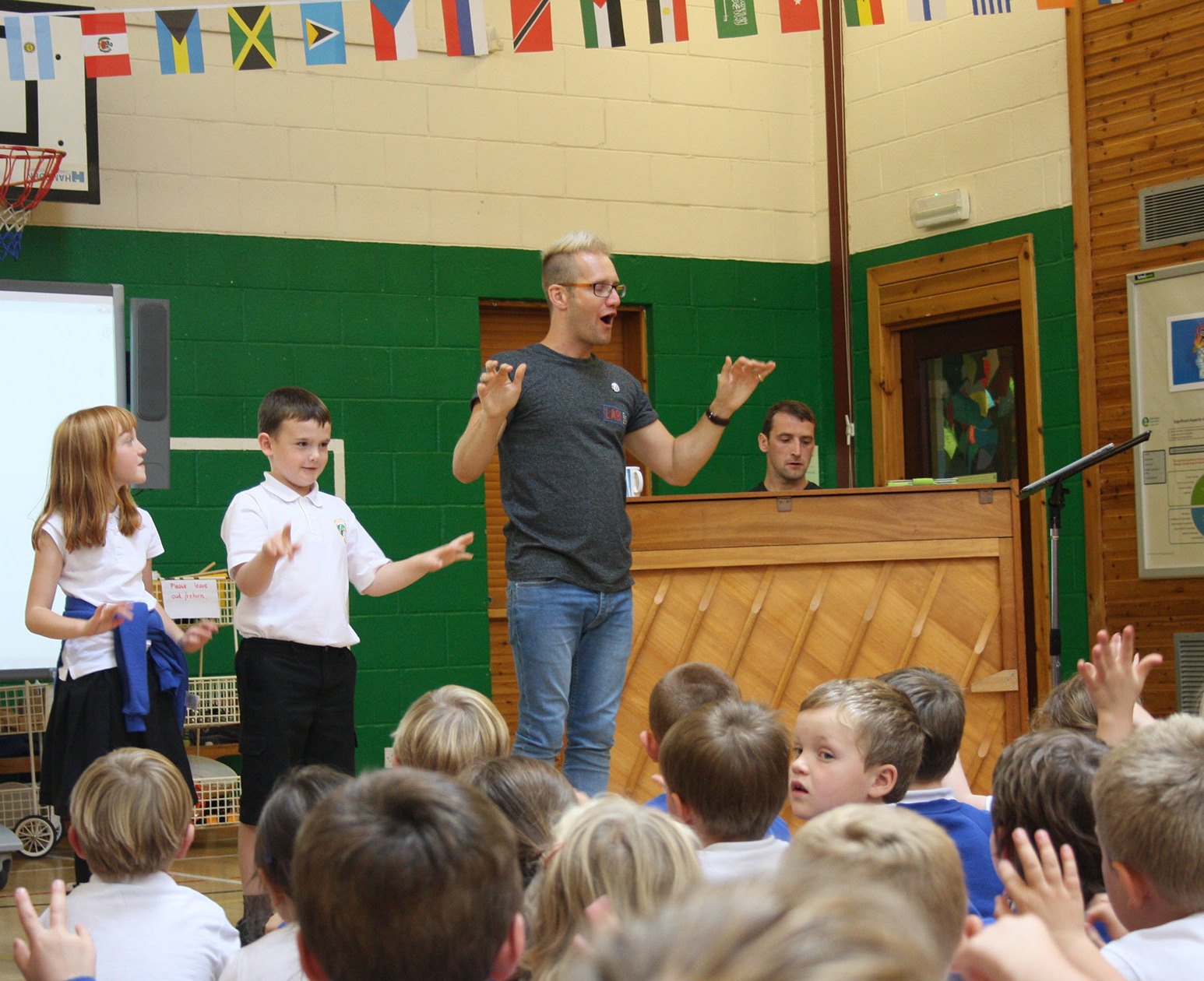 Sophie has recognised the power of singing first hand by introducing more music into her school. She described how children have the ability to show this best because they haven't yet developed the inhibitions alongside performing that we may develop as adults. She described the immense positive impact she has seen in terms of behaviour, calm choices and friendships as a result of her students singing and how singing is "part of what makes an effective school's DNA."
Gary described how effective he has found the introduction of creative learning initiatives into schools. He remarked on how he has seen music making become immensely helpful to teachers, who had otherwise not been engaged with arts subjects. They started to embrace music and used it to help them when they were struggling with ideas on how to engage better with their students. As the teachers themselves engaged, it began to make a huge difference to their children personally as well as academically.
Singing has the strong and never-ending ability to bring people together. Gary talked about how he finds singing to be "a great leveller", how it can create friendships where you least expect it to between different ages and backgrounds.
"If you introduce singing into an environment where it hasn't been embedded before, it brings everyone together. It contributes to that health and wellbeing agenda. Everyone feels better for singing." - Gary Griffiths
The psychological and neurological research all points towards why singing is so important to continue as children right the way through to adulthood. It creates such powerful social cohesion, which matters so much right now in what has been an incredibly isolating year for many. Anita explained the science behind that:
"It is now known that when we sing together our heartbeats will actually synchronise and our body temperatures will synchronise as well, which is why we get that feeling of togetherness that is so immediate…It's very physiological and neurological as it's our oldest communication stream. It's so close to us as human beings, which is why it's such an important thing to do." - Dr Anita Collins
---
Why prioritise music education now?
A reason that singing is a priority for the Voices Foundation is because it is accessible and universal: almost everyone has a voice, there are no barriers to entry, no expensive equipment is needed. For us it means that every child everywhere can engage with music making in a natural and immediate way.
A lot of schools and parents will be concerned with the amount of catch up learning they have had to take on as a result of the pandemic. Anita made the point that because of the stimulating effects of singing for the brain and wellbeing, that singing is the one thing that can "reignite learning to the level it was at."
"Music can be used as a tool to get students as quickly, cheaply and as easily as possible back to their prime learning levels, so that you can catch up. Don't think about it as something extra or different. It's the foundation to getting these children back to where they need to be."
- Dr Anita Collins
Leadership and the Curriculum
Sophie advised that schools and their leaders can integrate and retain music education by holding on to a vision. The vision at her own school is to have as wide a curriculum as possible. As their school already has an enthusiasm for music, this was exactly what they have endeavoured to hold onto:
"Whatever else is going on Covid-wise, government expectation-wise for the core subjects, let's hold onto the fact that we're widening our curriculum and the key part of that widening is our music curriculum. Let's just find our way through and hold that near as leadership."- Sophie Gosden
Having a clear intent as leaders to integrate music throughout a school is what Sophie believes will give teachers the support and safe framework to do a great job.
After a period of disruption, singing can not only be what brings children back together to reconnect, but it can rebuild whole school communities. Jennifer discussed how the Voices Foundation has been speaking to our schools this year about using music as a tool not only for learning, but for rebuilding community.
"Schools have been struggling with children being at home dealing with the pandemic. But using singing and music making as a way to reconnect with the school community, to help with behaviour challenges, it is such a great way of knitting that community back together again. Music can flow through everything." – Jennifer Coleman-Peers
---
How can we make music safely?
Current Guidance and Practical Steps
So, what do the guidelines currently tell us? Gary, who has been instrumental in spreading awareness of the Covid 19 guidelines on singing across the music education sector, was on hand and made it clear that you can still sing and there is no prohibition on the use of any instruments in the classroom. He shared this fantastic resource that he has made to detail the exact risks of singing at the moment and how these risks are minimised:
To reduce the number of water droplets created in a room when singing for a whole lesson, Gary suggested:
opening windows to make sure the room is well ventilated
social distancing
reducing the duration of activity to forty minutes or less
keep the volume down to a soft/medium level
not to insist on heavy diction when singing
increase social distancing for adult singing leaders if possible
Gary said that short incidental singing with children (singing the times tables for example) is safe to do if social distancing is not as possible within classroom bubbles and that he wouldn't worry about this type of singing as an educator. It is only singing in large groups that is still prohibited, such as a school assembly indoors. The guidance hasn't changed at the time of writing between lockdowns or tier systems – singing is allowed in schools. Gary also spoke about how there are no restrictions on peripatetic teachers in schools, such as a Voices Foundation Choral Leader, and that they can move between bubbles within schools. You can review more guidance and recommendations via the links below.
All our panellists were keen to discuss how there is no reason to stop making music right now and that it can continue to be a simple, easy activity in schools by taking small steps to make it safe. Sophie Gosden shared how her school is still singing altogether during virtual assemblies where classrooms sing together simultaneously. They also use transition songs for when children move between activity spaces, for example from carpet to table, which is classed as safe incidental singing.
Making music with our bodies and percussive instruments was also suggested as a great alternative way to create rhythm by our panel. Sophie described how she found the movement and rhythm exercises she's done with Voices Foundation at her school show you how simple and easy it is to create a beat together. Anita reminded us that tribally we would all meet around a fire and create beats and rhythms thousands of years ago.
"Keeping a beat together makes us feel like a group immediately. It takes a minute. That feeling stays with us for days and it's an enormous reward." - Dr Anita Collins
She described how beat keeping as a group has been used to help treat trauma, to transfer a person from a fear state to a calm and learning state. Using this could be hugely beneficial to helping bring children together after what has been a very disruptive year for them. Anita remarked upon how keeping a beat can be made into a game, where everyone is equal, has a part to play and helps establish great teamwork.
It's about taking small steps and realising how easy it can be to incorporate music into the framework of a school, even during such an unsettling period of time.
"School leaders are expecting themselves to be experts at a time of something that's never happened to the world before and we aren't. But there are people that are experts out there about things like singing, like music. Reach out to the people that know and use it as support." - Sophie Godsen
We are so pleased we were able to hold this discussion and bring together research, guidance, and leadership to better understand and explore how music can and should remain a priority for schools during these challenging times. A big thank you to our amazing panel. You can find links to all the recommended guidance and safety information from our panel and Voices Foundation via the links below:
---
You can watch the full webinar here and subscribe to our YouTube channel for all our webinars and music education content.