Re-Imagining Music Education:
#VFSingWell Webinar Re-Cap
On Tuesday 30th of March, Voices Foundation hosted the third instalment of the #VFSingWell webinar series, focused on the future of music education. The panel, led by our Interim CEO Jennifer Coleman-Peers, explored alternative visions for how education can be delivered and what we can learn from other countries' approaches to music education. Our panellists related their thoughts on what can be done now, within the existing system, to ensure music is at the heart of every child's education. As ever, we brought together leaders from across the music and education sectors to explore the issues and opportunities facing music education in the UK.
We were lucky enough to have a fantastic panel made up of Kate Robinson (Writer, Speaker, Director of Nevergrey, global head office dedicated to the legacy of Sir Ken Robinson), Richard Jefferies (Music Educator, Choral Conductor, Artistic Director of the Singing Community of Choirs), and Simon Toyne (Executive Director of Music, David Ross Education Trust (DRET); President, Music Teachers' Association).
---
Why should we care about music education?
It's a big question, but one that ultimately drives Voices Foundation and our panel to work so hard towards providing the best music education possible. Unanimously agreed upon is the idea that music is simply an intrinsic part of life. Simon Toyne spoke of the power of music to provide a deeper understanding of life itself. Kate Robinson enthused on the ability of music to communicate feeling, its ability to transcend language by being a language itself. Richard Jeffries believes all children are musical, yet some are simply given more opportunities to be musical than others. Musicality is part of the make-up of humans. Giving children access to it is vital to enhance their lives as human beings.
"Music helps us understand who we are, individually and collectively."
– Kate Robinson
---
What are the current limitations to music education?
Before talking solutions, we wanted to hear from our panel about what they feel the current limitations are for music education in this country. What is it that prevents music education making the impact that we know is possible?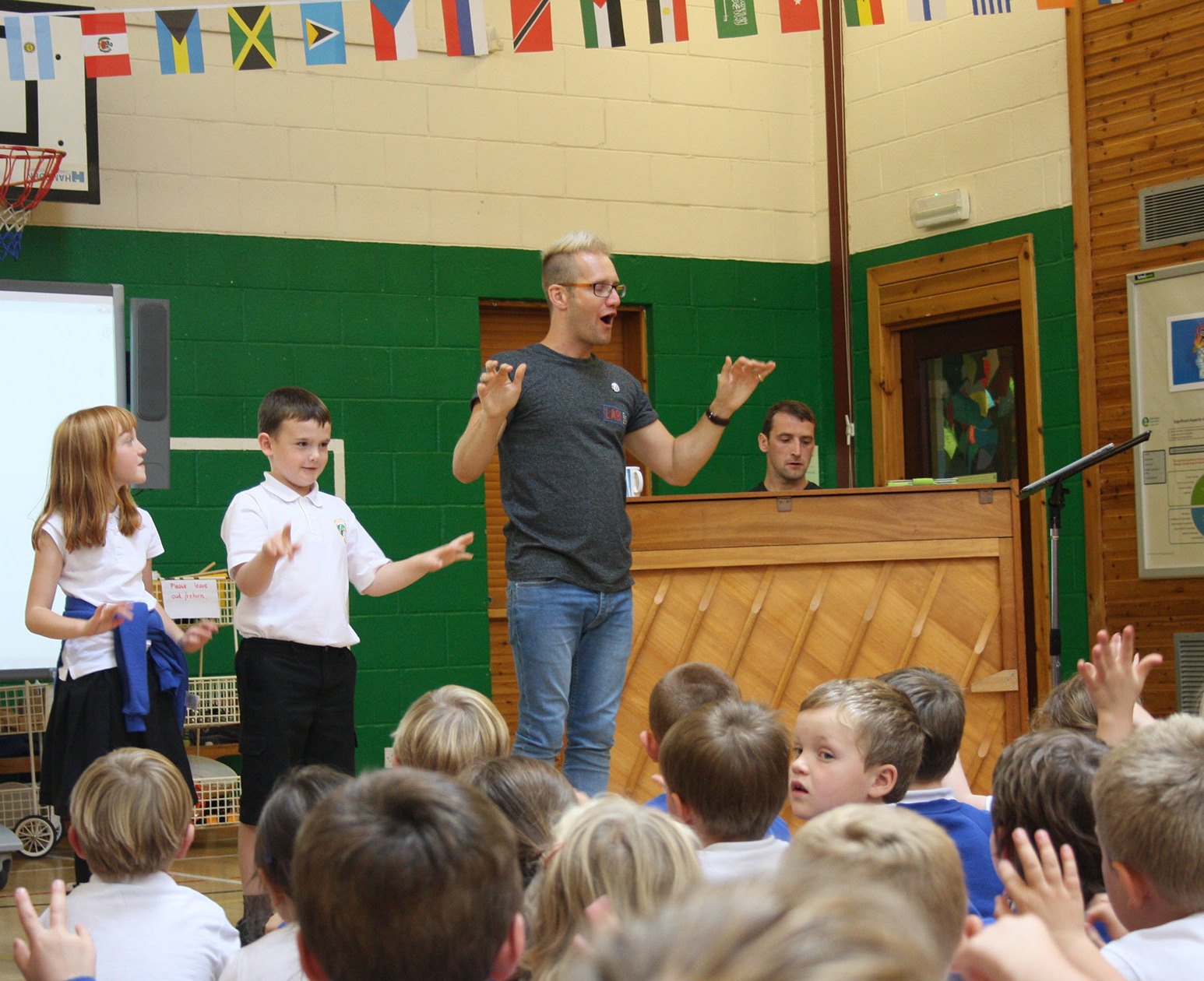 "We are born musical. We need to nurture that and bring that out." – Simon Toyne
Simon didn't shy away from shedding light on the misconceptions surrounding music education and the ability to be musical. Every child is born with an innate musical ability – indeed we sing before we can speak – but some are led to believe they aren't musical either because of a lack of opportunities to engage with music or because they haven't been singled out as 'talented'. Simon reflected on the false connotation that you're either musical or you're not and how music must be reframed as a craft for everyone.
As Kate rightly pointed out, when music education is marginalised in schools, it sends a very loud message to teachers, parents and children themselves that music is not important. Simon stressed that there has to be a collective and united response to music education, with those of us in the sector working together to help elevate its importance in schools. We must emphasise the importance of music for its own sake, rather than justifying its place in the curriculum in relation to other subjects.
"Be specific about music as a discipline and a craft in its own right. That has been lacking in the cultural context around education in recent years." – Simon Toyne
Richard raised the point of teacher pressure being a huge issue when delivering music education. Primary school teachers in particular are expected to be a jack-of-all-trades in the classroom.
The pressure to add more to their schedule by increasing expectations around music education seems daunting. Kate mused that teachers come under pressure to be experts at everything, especially so as they have supported children and families during the pandemic, and agreed with Richard that a lot of teachers lack confidence when being musical themselves. Kate remarked that this could be down to many teachers having a poor music education themselves, making them unfamiliar with the power of integrating music into their daily routines and enhancing them for the better. Richard said this is why training for teachers is vital to help them gain in confidence and relieve them of pressure that daunts them unnecessarily.
---
What can we learn from other countries' music education?
"There are definitely approaches we could learn from." – Richard Jeffries
Richard has had the opportunity to travel around the globe researching the impact of music education on young people as a result of his Churchill Fellowship. No system is perfect, but he mentioned some key factors as to why Finland's model for education as a whole is invaluable for their output of music education.
Trust and Respect for Schools and Teachers
Teaching as a profession is given a huge amount of respect in Finland. It takes five years to train as a teacher. A lot of trust is placed in teachers and their schools in Finland. This level of trust and respect is empowering. Schools inspections, like OFSTED, don't exist at all. Instead schools are left to self-evaluate. They have the freedom to examine themselves and how well they are providing for their children and staff. Presumably this helps take the pressure off targets that can distract from providing subjects like music, which are so nurturing for both education and wellbeing. All teachers receive 60 hours of music and arts as part of their standard teacher training.
Less Pressure on Children
There are no national tests in Finland for children until the age of 16. Prior to this, children are tested on what they've learned rather than taught to a test. This lack of pressure and increased freedom for students and teachers in Richard's eyes, "provides a more child-centred way of learning." Learning more freely, as Richard describes, seems to have allowed music to have a higher level of importance in schools. Music is not viewed as an add-on subject in Finland in anyway and is completely incorporated into all levels of schooling. Schools do music for at least an hour a week and some primary schools can apply for extended music and do three hours a week in curriculum time.
"Numbers for assessment are used less and less, especially in the younger years. The stress that testing brings is stressful for everyone and the testing regime never shows pupils at their best." – Helsinki University
"As the curriculum is less regimented and more theme based, they can weave in music and other subjects." – Richard Jeffries
Funding for All Levels of Music Education
The government in Finland does provide more funding for music education. Music is definitely given significant importance as an education tool, with Finland having over 100 music schools around the country. Children are encouraged to go to these after school and the cost of them is brought down for parents because they are heavily subsidised by the government. Music is recognised as something that benefits and shapes the whole child in Finland. Richard said he even met someone at a music school who knows a non-musical company who only employs people who are musical because of the skill set that they have developed.
---
How do we re-imagine a future for music education in this country?
Understanding the value of music is something Simon believes is key to progressing music education. Fundamental elements such as regular music practice and more CPD (Continuing Professional Development) for teachers will help establish and reaffirm the importance of music education going forward, but other themes surrounding music education's future emerged during our discussion.
Daily music practice is achievable in all schools and the panellists agreed that being ambitious in every way only sought to improve the state of music education. Being ambitious will help put children first. Richard feels that schools shouldn't shy away from giving their children high expectations of what good quality music performance is. High expectations of performance encourage a desire to improve and achieve in all aspects of schooling. Simon went on to say we should strive for quality when looking at music as a long-term craft that doesn't focus on 'talented' children, but rather on every child collectively. Seeing it as a long-term discipline would also mean connecting the dots between music education at primary and secondary levels, so that there isn't a drop off in learning as a result of the transition.
"Singing has to be central to music education." – Richard Jeffries
Singing is our focus at Voices Foundation as it remains the most accessible and universal form of music education. Everyone has a voice. Our panellists themselves signalled out singing as significantly benefitting the future of music education because of how easily musicianship can be taught through song alone. Reflecting on our musical output as a country, Simon discussed our huge history of choral singing and how it is something that should be celebrated more and used to benefit the landscape of our music education.
Engaging the Music Industry
"There is a huge opportunity here to engage the music profession at large to demystify it." – Simon Toyne
Empowering teachers through CPD shows them the power of music to help children achieve more. Simon discussed how fantastic this is, but how there comes a point when in order to progress music education, and to take the pressure off of teachers, specialist music teaching is needed. This shouldn't be seen as a further add on, but rather a great opportunity to inspire children and schools by using the music industry itself. Having professional singers and musicians working in schools excites and literally shows children the value of learning music and even what it can lead to.
Level the Playing Field Subject-Wide
Kate reminded us that what must change are those false connotations that music isn't for everyone. She stressed that views like this along with systems in place in education that tell teachers and children that they don't have a voice are real stumbling blocks. Kate stated that there is, "a lot of systemic work to do to help people find their voices through music." While elevating the position of music teaching in the curriculum, Kate feels there is also something to be said for not making such a big deal about it as a subject or rather, we shouldn't make a big deal about any subject at all. Dividing learning into subject areas is a fallacy as the way children learn (and the way the world actually operates) is interdisciplinary.
---
What are practical steps that teachers and heads can take today?
If we're to take any lessons from Finland's approach, perhaps it's to take the pressure off. Incorporating music into lessons using a "drip fed approach" as Richard describes it, little and often, makes music so central to a child's day at school. Music can be fed into all aspects of a schedule in classes and in assembly. Simon wants to see the words LITTLE AND OFTEN emblazoned above the doors of all classrooms when it comes to music and we couldn't agree more.
At Voices Foundation we focus on singing because it is universal. Richard described singing as just being "a brilliant way of developing music concepts." Like us, he also feels singing is vital to help our recovery from the pandemic because of the power of singing to bring whole school communities together. Simon expressed that having the principle of every child, every adult singing every day in school is easily achievable and the transformational effects are incredible.
"'Get together. Get behind the value of music in its own right. Get together and make a case. Get together and make a difference." - Simon Toyne
A brilliant rallying cry expressed by Simon. Working together is something that can be done right now to re-imagine music education. Showing and helping to problem solve by having discussions altogether as headteachers, teachers, decision-makers and education hubs would be an amazing start. There is a balance to be struck, but collectively coming together to further incorporate music into school routines, increase CPD and cherish the use of specialists will help schools find a happy medium.
A big thank you to Kate, Simon and Richard for their time. It was a pleasure to hear their invaluable insight into the positive changes that can be made to help everyone re-imagine and re-discover the power of music education now and in the future.
"Have a go. We are all learning together." – Richard Jeffries
You can watch the full webinar here and subscribe to our YouTube channel for all our webinars and music education content.