Music is Central: an Interview with HAyley Guthrie
Hayley Guthrie is a Year 5 teacher and Music Lead at Central Primary School in Watford. Central Primary is a longstanding Voices Foundation partner school where music and the arts have become a 'central' part of school life. We caught up with Hayley to learn a bit more about the history of our partnership, how Central handled school lockdown, and how music will remain a vital part of welcoming pupils back this year.
Hi Hayley!
Tell us a little bit about your work with the Voices Foundation.
When I started at Central, we didn't have Voices Foundation (VF). I am not a trained singer, but I've always loved singing. When it came to teaching music, I didn't really know where to start, wasn't confident and didn't have a bank of songs that were age appropriate for the children. I didn't understand that there were musical skills that needed to be taught.
Hayley Guthrie & Central Primary Pupils
When we started work with VF, I was ever so grateful to have access to proper planning and structure surrounding music. Almost overnight, I went from being really anxious to feeling confident in my ability to lead singing and was able to help other teachers who weren't as confident.
At the beginning of the programme, there were a few teachers who really didn't like singing. However, once we all got to know our VF Practitioner, Katie Neilson, staff began to embrace music in school. Katie has always invested in individuals in the school and doesn't just deliver to the group. She makes sure all teachers have the tools to succeed.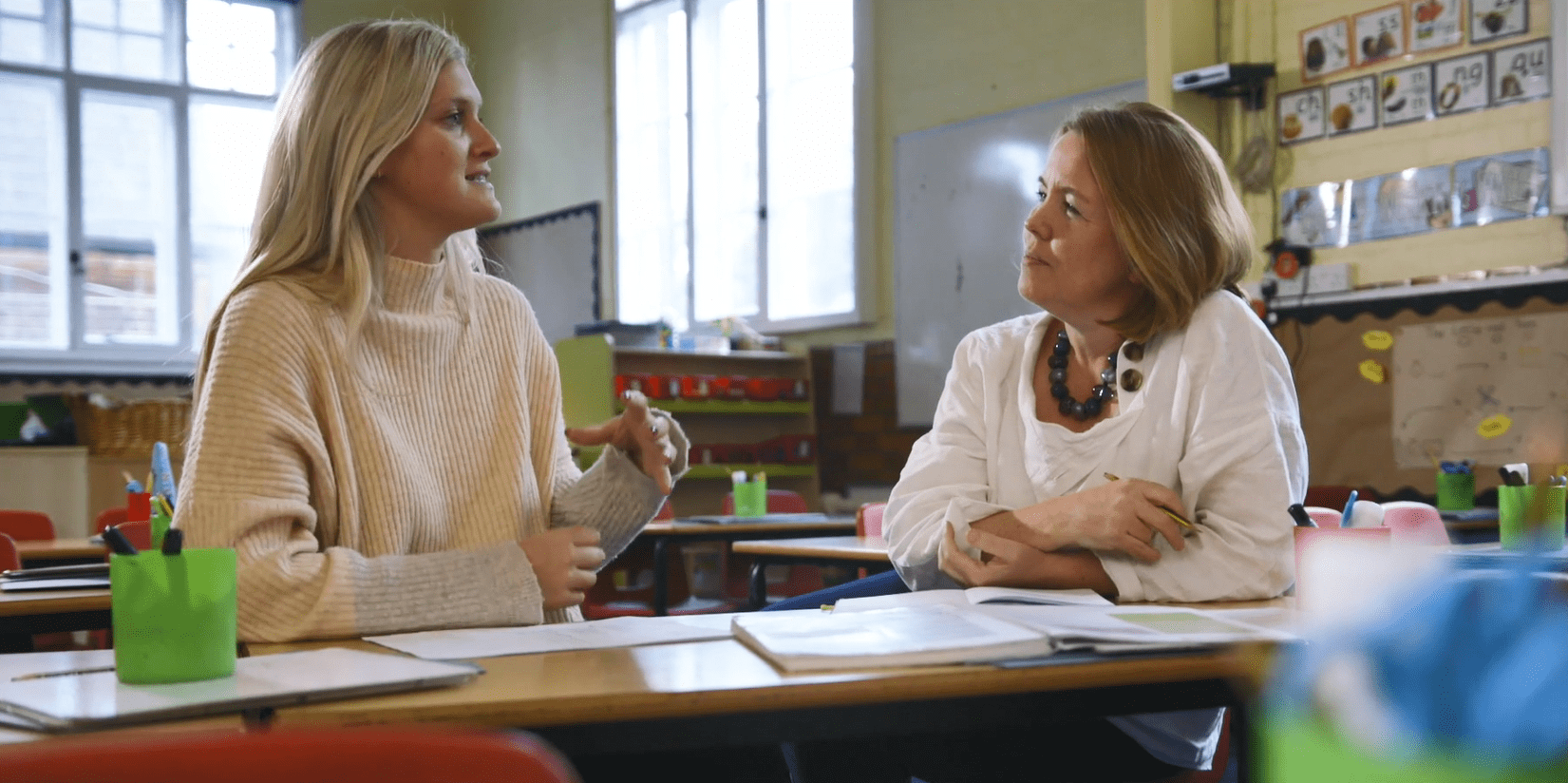 Hayley (left) with VF Practitioner, Katie Neilson (right)
From the beginning, Katie's staff training sessions were really inclusive and worked to build confidence across the team. These training sessions quickly became a staff favourite as, compared to other staff training events, VF training had us actively participating in music and gave us a chance to practice and build up our bank of music teaching skills. As we bring on NQT's each year, the support from VF, combined with the musical skills already present in the staff helps make music a vital element of CPDL.
How has your work with Voices Foundation impacted the school community?
The Voices Foundation has made singing such a strong part of our community. We use singing wherever we can to celebrate important events. We recently had all pupils come together to sing for the departure of John Mynott, our (now previous) Headteacher.
John Mynott (former Headteacher) leading a Singing Assembly.
The language the pupils now have about music is so impressive. They can talk to you about musical skills, and are so enthusiastic to share their learning. Before VF, our pupils couldn't tell you what makes up a music lesson. Now, students are eager to tell (and show) us about rhythm, pulse, and metre. We're often left with our mouths open by how well students have embraced music and taken in new information.
Two years ago, I took a group of Year 3 pupils to the VF 25th Anniversary celebration at St John's, Smith Square in London. Now in Year 5, we're still seeing the impact this event has had on these pupils. In a recent 'lockdown diary' assignment, one specific pupil (Wasif) remarked about his experience and even listed 'Hey Sokoly', a piece from the VF Songs of Home resource, as his favourite song. After two years, Wasif was able to sing this for me. It's clear these pupils haven't forgotten the impact of music and certainly haven't lost their love for making music in school. It's not just about Maths and English here. Working with VF helps me as a leader and has made a lasting impact on our school.
Voices Foundation 25th Anniversary concert at St John's, Smith Square in London.
The end of last year certainly was extraordinary. How did Central Primary handle lockdown & remote learning?
In general, it was very last minute. We tried to do the best we can to help parents support their children at home. As we moved through the lockdown, this got better. We kept up with all of our lessons and (thanks to our bank of resources from VF) were able to keep providing tools for musical learning at home. We enjoyed having access to Virtual Singing Assmblies and shared these with our parents and pupils. I even heard back from some of the parents who were really grateful to use the singing assemblies as an opportunity to make music with their children at home.
For teachers, we were lucky to continue receiving support from VF via the Voices Connect CPDL platform. Although this was quite different than what we were used to (singing into a computer screen vs. in a classroom) it was still nice to receive continued feedback from our practitioner, Katie.
Looking ahead to this academic year, how does Central Primary plan to continue working with Voices Foundation?
The pupils and staff are all eager to have singing assemblies again. While we're unable to come together as we have before, our practitioner Katie and the VF team have been helpful in following appropriate guidance, clarifying what we can and can't do.
In terms of music lessons, we're working in groups of 15 or less and encouraging lessons to take place outside where possible. We're only using gentle singing voices and encouraging safe ways of making music (rhythm work, musical instruments, body percussion etc..). We've already made sure to schedule digital training meetings with Katie and will continue to take advantage of VF's digital resources.
Central Primary has always been a creative and musical school. One of the first questions we asked ourselves as we returned to school this year was: How are we doing music? Our years of partnership with VF have shown us the value of music education for pupils and staff and we will continue to make this a priority going forward. We are proud to be a Voices Foundation school.
Central Primary pupils enjoying a Voices Foundation Singing Assembly
Thank you, Hayley!
It's been wonderful to speak directly to one of our classroom teachers about their experience. Hayley's thoughts and the stories she's shared truly show us how the work we do at Voices Foundation has a real impact on the lives of children and teachers that we work with. A huge thank you to all our practitioners for the work they do and to our supporters for making our work possible.
---
What our Classrom Teachers think...
What our Headteachers think...